Nordstrom Sale Picks + $1K Giveaway!
Woo! After a whirlwind week road tripping it back up to my hometown and then off to LA I am fiiiinally back on my couch. Bundled up in my robe. Blogging.
This is the life.
I've got some awesome content coming down the pipeline for you guys but wanted to make sure I hopped on here to 1) wish you an awesome Memorial Day and 2) to round up the best of the best from the Nordstrom sale!
Nordstrom is running their Half Yearly Sale through June 4th and you can snag up to 40% off on some big brands.
I'm a baller on a budget so I kept all my picks with the exception of accessories to under $100.
Happy shopping!
Tops under $100

Bottoms under $100

Dresses + rompers under $100

Everything else

Mkay well now that we've gone through all my fave Nordstrom picks let's talk about my fave subject…
FREE STUFF.
Check out all the cool giveaway deets below!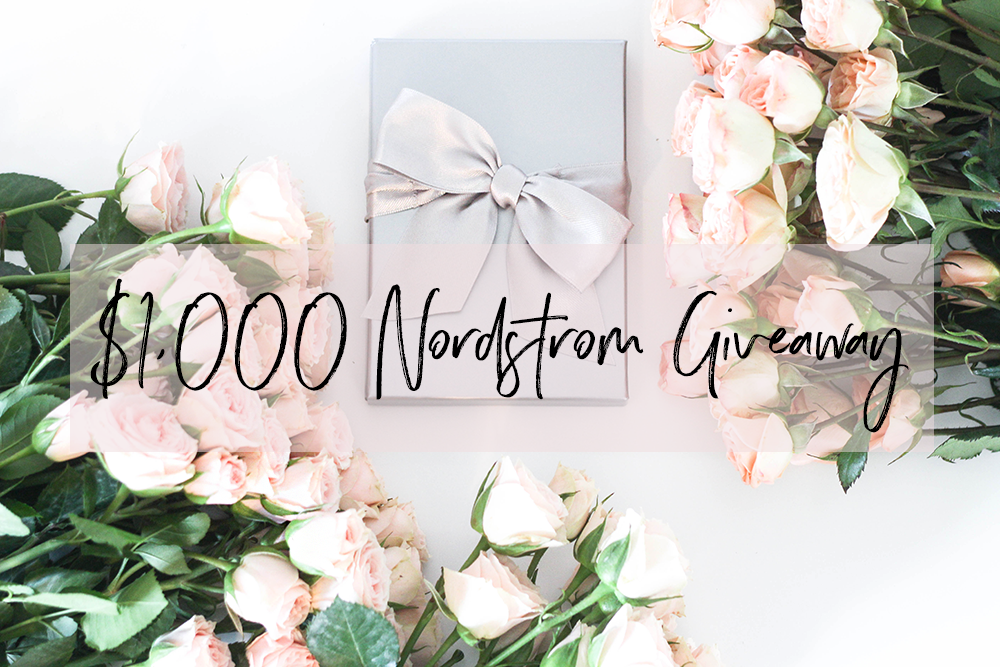 This week I am teaming up with an amazing group of ladies to bring you an INCREDIBLE giveaway! One lucky reader will win a $1,000 Nordstrom Gift Card. YUP. You read that right. $1,000!

Money Can Buy Lipstick | Coming Up Roses | Marvelous in the Midwest | Glitter and Gingham | Nines to 5
Posh in Progress | RD's Obsessions | Blush & Blooms | Pretty in Pink Megan | So Heather
DTK Austin | Modern Day Moguls | The Trendy Tomboy | My Boring Closet | Mrs Casual
Rose Gold Lining | Absolutely Annie | Sunsets & Stilettos | Glass of Glam | Topknots & Pearls
I am Style-ish | La Passion Voûtée | Sass & Sun | The Closet Crush | Blondes & Bagels
Lizzie In Lace | A Lily Love Affair | Celebration Stylist | Red Soles and Red Wine | Style Weekender
Boho Style File | Makeup Obsessed Mom | Trendy Chickadee | The Beauty Beau | Twenties Girl Style
Sabby Style | The Heart of the House | Street Style Squad | The Middle Page | A Lo Profile | Dashing Darlin

Use the widget below to enter the giveaway. The more "tasks" you complete, the more entries you will receive. The winner will be announced (on the widget) within 2 weeks of the giveaway ending. The giveaway is open to the U.S. and Canada.
*Blondes & Bagels uses affiliate links. Please read the disclaimer for more info.